This post may contain affiliate links. Disclosure here.
A no spoilers book review of "The Love Hypothesis" by Ali Hazelwood.
First and foremost, I feel it is important to point out to those of us who might not know, that "The Love Hypothesis" was originally written as fan fiction about Kylo Ren and Rey (reylo) from Star Wars. I've noticed a lot of dislike about the book over this fact. The main characters, Adam and Olive, do share a very deep resemblance to Adam Driver and Daisy Ridley. (I mean look at the picture below and then look at the cover of "The Love Hypothesis".)
---
However, I went into this book not thinking about the ship and instead was looking forward to a cute, fake-dating trope romance novel.
So let's begin with what I disliked. Let's save what I liked for the ending, it's more fun that way. (Right?)
---
1. Adam. Is. So. Big.
There are a lot of references to Adam's height within the book. At some points, it becomes to come off as though Ali Hazelwood just wants Adam's tallness to be a personality trait.
"Big", "tall", "broad". *eye roll*
But it isn't. We get a few small details about Adam, but not nearly enough to piece together a full picture of who Adam is as a character. He's tall. He eats so healthy Olive finds it disturbing. His students fear him. And…?
By halfway through the book I was rolling my eyes. Do I like tall men? Yes. Will I fixate on a man's height over other aspects of him? No.
2. It's still published fan fiction
At the end of the day, this book is still what one could call "glorified fan fiction".
That isn't to knock fan fiction writers, I've written plenty of fan fiction during my Tumblr days.
And more power to Ali Hazelwood for actually publishing a fan fiction story, but why I don't like this, is because many parts of the story still read like fan fiction.
Sometimes I felt Ali Hazelwood was omitting details or not going into the bigger picture of things because we were meant to go into this novel already thinking about Kylo Ren and Rey.
*Minor spoiler coming up*
Why did no one warn me about the smut? Why did no one warn me about the fan fiction level of smut involved in not one, but TWO chapters????
*Spoiler Over*
I feel like BookTok let me down on this one. At least I wasn't reading that part of the book in public, right?
3. There is a miscommunication trope
I despise, DESPISE miscommunication tropes. It was a major reason why I disliked "Normal People" by Sally Rooney and is 100% a major reason why I had trouble really loving this book.
Adam and Olive allow each other to believe things that aren't true, rather than clear them up.
They're fake dating, so it doesn't really matter. Does it?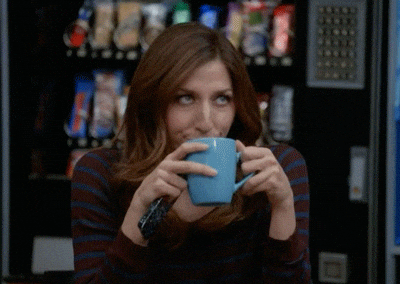 But it does. It really, really does.
This book is really 50/50 for me. As many things as I disliked, there were as many things as I enjoyed. So here they are;
1. The Banter
I LOVED the banter between Adam and Olive. Yes, they miscommunicate and yes they say a lot of the same things.
But the banter adds a layer of wholesome to the novel that I just found myself really enjoying. While their character traits came off as more cringey than relatable or interesting, their banter left me wanting more.
The banter between Olive and her best friends was perfect as well. The way Olive and Adam communicate with their friends is a bit more realistic and has an undertone of sarcasm and fun that really helped to lift up the story.
Let's just say I really enjoyed the banter on all levels within this book.
2. The focus on STEM and BIPOC women in STEM
The representation was fantastic. Seeing how *fictional* women navigate an academic setting seemingly set up for men and men only, was intriguing.
The outlook on academia as a whole in the novel is a bit on the pessimistic side, but I really appreciate Ali Hazelwood sharing her love of science with us.
We need more of that. Novels about women. Novels about BIPOC women. Novels about women in STEM.
I am here for it.
3. The ending wraps up nicely
I've only published a small handful of book reviews and if you've read them (I love you very much but also) you'll know how much I despise a book that doesn't wrap up nicely. 
Ali Hazelwood does a fantastic job of slowly building up to the central conflict of the book and then wrapping everything up nicely. The end result is that warm, fuzzy, sorta cringey fan fiction feeling you get when you finish watching a Hallmark movie.
---
Overall, this novel had a lot of cringy moments. This book also had a lot of wholesome and sweet moments. I would recommend it to anyone who is interested in romance, STEM, women in STEM, grumpy vs. sunshine, and Kylo Ren/Rey fan fiction.
Did you read this book? What were your thoughts?
If you haven't read it yet, pick up a copy!
---
You might also like: The Seven Husbands of Evelyn Hugo // Normal People